Welcome to the Dawn LeBeau Counseling Services LCSW, P.C. Secure Client Area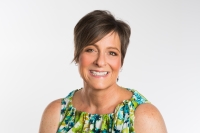 I received my BS in Individual and Family Studies from Penn State in 1987 and graduated with my Masters in Social Work from the University of Pittsburgh in 1989 (yikes). I am licensed in the state of New York and have more than 25 years of experience providing individual, couples, family and group counseling services to adolescents and adults.

Prior to opening my private practice and in addition to being a Licensed Clinical Social Worker, I have served as a Spanish and Theology teacher as well as Guidance Counselor for middle and high school students. In addition, I worked for 10 years providing therapy to those who have experienced Traumatic Brain Injury and their families.

Although not limited to just one treatment modality, I have a strong foundation in Cognitive Behavioral Therapy and I specialize in treating issues of anxiety, social anxiety, self-esteem, depression, and interpersonal relations.
Log in to the secure portal. If you have not received an email with a username, please Register.